Trade Frenzy Coming for Vikings
Kwesi Adofo-Mensah
The Minnesota Vikings have been a bit less than exciting in free agency thus far. Byron Murphy is an intriguing cornerback option, but they still need a wide receiver, and much of the turnover has been focused on shedding contracts. As the draft approaches, is a dam about to break loose?
Trade Frenzy Coming for Vikings
There has been plenty of talk regarding the future of Kirk Cousins in Minnesota. He's likely playing a final season for the Vikings, but it's more than certain that a team could acquire him with a strong draft package. Minnesota would be looking for salary cap relief but also wanting to turn the deal into a focus on their future.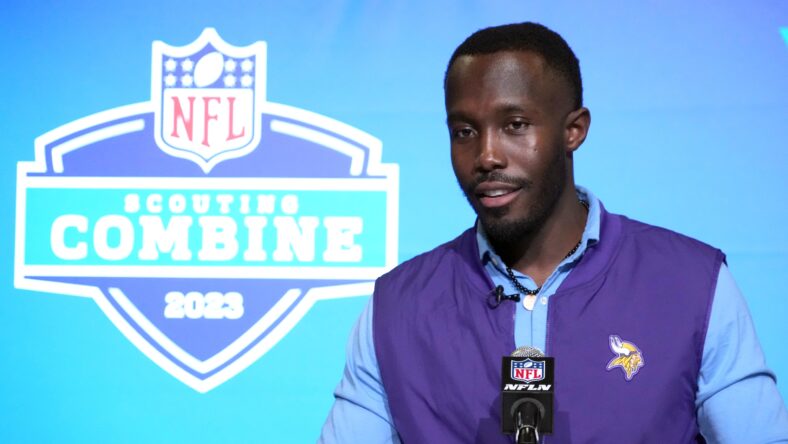 That same future has been heavily linked to new general manager Kwesi Aodofo-Mensah studying the quarterback class. There is no reason to believe the Vikings will move up far enough to draft C.J. Stroud or Bryce Young, but they may be intrigued by Will Levis, Anthony Richardson, or Hendon Hooker. A quarterback of the future could be had in this class, but it certainly could take a stronger draft spot than the 23rd overall pick.
Then there is the reality that Minnesota still has tradable assets. It seems somewhat curious the organization would bring back Alexander Mattison while still employing a declining Dalvin Cook. Maybe Cook can be parlayed into some picks of use in the middle rounds, and it's hard to believe that wouldn't be a worthy swap, given his current cap number.
Beyond the running back room, two players on the defensive line could probably also be had. It seems somewhat unreasonable that Minnesota should want to move either with new defensive coordinator Brian Flores stepping in and looking to have difference-making talent. That said, maybe someone covets Danielle Hunter and is willing to swing a substantial move. On the opposite side, Za'Darius Smith broke out after finally being healthy last season. It doesn't make much sense for the Vikings to let him benefit elsewhere, but if the return is large enough, maybe they can be swayed.
At the end of the day, Minnesota fans could be in for a flurry of moves around draft time. We haven't yet had a large enough sample size to declare what type of drafter the new general manager is. That said, this roster has plenty of holes, and if fixing it with rookie-level deals is part of the plan, then there are ways to make that happen.
For fans that like a video game level of crazy surrounding the draft, Minnesota certainly could be a team to provide it.
---
Ted Schwerzler is a blogger from the Twin Cities that is focused on all things Minnesota Twins and Minnesota Vikings. He's active on Twitter and writes weekly for Twins Daily. As a former college athlete and avid sports fan, covering our pro teams with a passion has always seemed like such a natural outlet.