Vikings GM's Trade with Lions Tapped as One of 'Best Moves in Draft'
Kwesi Adofo-Mensah
The transaction wasn't loved by all Minnesota Vikings fans, but new general manager Kwesi Adofo-Mensah's trade with the Detroit Lions in the NFL Draft stockpiled new players for the team.
And that "players" is in the plural sense — four of them.
Through direct compensation with the Lions, via trade of the 12th overall pick, the Vikings added Lewis Cine (S), Andrew Booth (CB), Ed Ingram (OL), and Brian Asamoah (LB). The Lions landed Jameson Williams (WR) and Josh Paschal (EDGE).
Host of The Vikings Report, a Vikings-themed podcast, Ted Glover tweeted this flow chart for visual learners.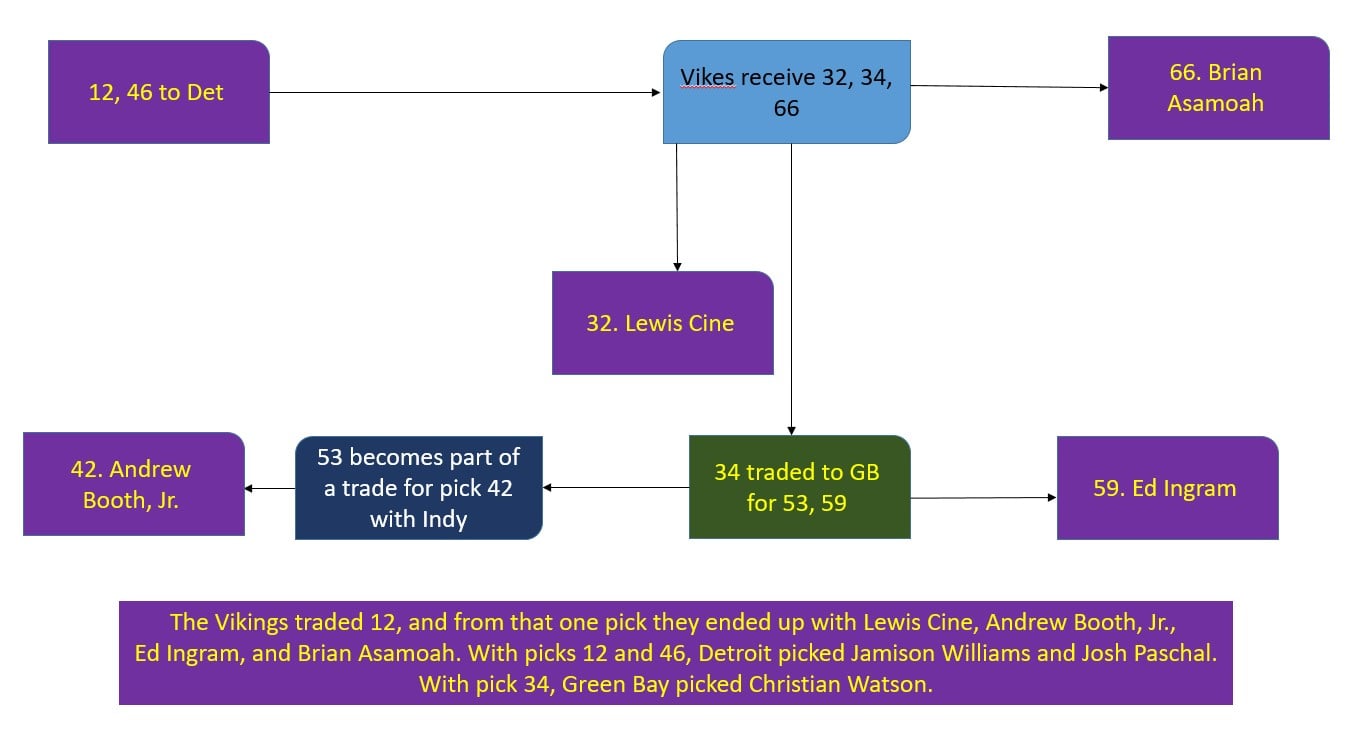 When the deal hit on Thursday evening, folks panned the trade for Minnesota because it involved an NFC North foe. Adofo-Mensah intensified the heat the following night after another trade with the Green Bay Packers.
As some onlookers of the purple team bemoaned both deals, Bleacher Report would later nominate Adofo-Mensah's trade with Detroit as one of the "best moves of the draft." Indeed, Ian Wharton of Bleacher Report authored an analysis of all the top transactions from the 2022 NFL Draft, and the Vikings trade with the Lions made the cut.
Wharton explained his theory on the trade, "Adofo-Mensah inherited a good Vikings team that needed to overhaul several defensive positions with youth; he accomplished that with this draft, and the Vikings will benefit in 2022 and beyond."
Like any draft outcome — or sports trade — the proof will be in the pudding years down the line. Fans and pundits want to know now "who won the trade," but judgment cannot be rendered until 2025 or so. Of course, Williams could score 20 touchdowns in 2022 for the Lions, netting an early return for the verdict, but that is A) Severely unlikely B) Still not accounting for the performance of the other pieces of the trade.
The Lions and Packers players from the trade have an inherent advantage to appear productive as a result of the swaps. They're wide receivers, and wide receivers put butts in seats and grace commercials on television. Meanwhile, the Vikings added defensive players to the deal — who will draw the attention of the in-the-weeds fans more so than the flashy playmakers.
As for the Lions deal specifically, which Wharton lifted up, these players must eventually outperform Jameson Williams and Josh Paschal for the trade to be worthwhile:
Lewis Cine (S)
Andrew Booth (CB)
Ed Ingram (OG)
Brian Asamoah (LB)
We'll see you in 2025 to offer an objective verdict.
---
Dustin Baker is a political scientist who graduated from the University of Minnesota in 2007. Subscribe to his daily YouTube Channel, VikesNow. He hosts a podcast with Bryant McKinnie, which airs every Wednesday with Raun Sawh and Sally from Minneapolis. His Viking fandom dates back to 1996. Listed guilty pleasures: Peanut Butter Ice Cream, 'The Sopranos,' and The Doors (the band).