Vikings OL Went from Memes to Multiplicity
Around 14 months ago, these memes circulated on social media like a virus.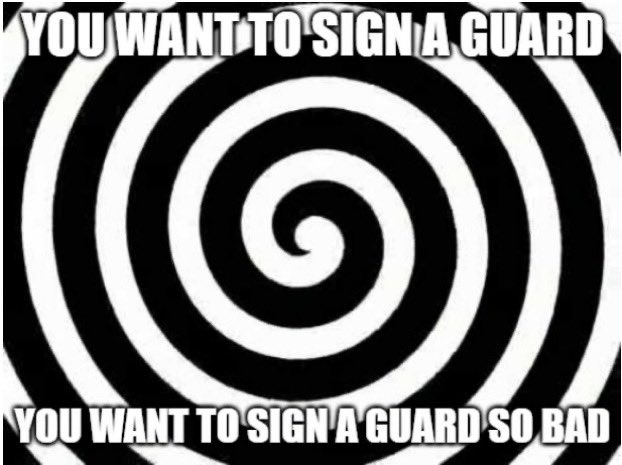 The context? The undying desire for the Minnesota Vikings to sign a guard in the wake of the ill-fated 2020 season. Minnesota employed Dakota Dozier and Dru Samia at right guard, two men who fired up historically bad pass-protection seasons for the franchise.
Fans needled the Vikings to sign a guard with more upside — and mere competence — than Dozier and Samia. Ultimately, former general manager Rick Spielman traded for Mason Cole from the Arizona Cardinals, drafted Wyatt Davis from Ohio State, and the 2021 coaching staff promoted reservist OL Oli Udoh when September rolled around.
Cole was productive but left via free agency to the Pittsburgh Steelers in March 2021. Wyatt Davis is more mysterious than Malaysian Flight 370. And Oli Udoh led the NFL in penalties.
Fast forward to February 2022, the Vikings fired the aforementioned general manager and canned almost all of the 2021 coaching staff. A new era was underway, presumably a time when new leadership would understand the pass-protecting ability of the team's interior offensive line, well, stunk.
It appears Kwesi Adofo-Mensah and Kevin O'Connell got the memo.
The Vikings right guard "situation" went from psychosis memes to multiplicity. Suddenly, Adofo-Mensah and O'Connell have a plethora of dudes who can eventually start at RG.
Most onlookers of the Vikings believe Ezra Cleveland is "safe" at left guard, as the third-year lineman from Boise State has developed admirably and at a reasonable pace. No such statements can be associated with any humans linked to right guard as of late.
Ergo, the RG section of the 2022 Vikings roster, particularly the starting job, will be filled by one of these men, assuming Adofo-Mensah doesn't sign another applicant for the gig. And we've ranked these in order of likelihood:
Ed Ingram
Jesse Davis
Chris Reed
Oli Udoh
Wyatt Davis
Austin Schlottmann
Kyle Hinton
Josh Sokol
Memes to multiplicity.
Of course, Schlottman, Hinton, and Sokol are extreme longshots to land the RG1 job in September. But based on the way Minnesota has struggled and piecemealed RG solutions since the start of 2018, anything is possible.
Gone are the days of staring at the television of Dozier and Samia in horror. Dozier is on track to start for the Chicago Bears — stop laughing — and Samia lives on the New York Jets practice squad.
The takeaway? The Vikings will, once and for all, ascertain a sensible RG fix this autumn. If they do not, it will mean eight players were trashy, and a new coaching staff couldn't solve one longstanding roster problem. Both outcomes are unlikely.
Better days ahead.
---
Dustin Baker is a political scientist who graduated from the University of Minnesota in 2007. Subscribe to his daily YouTube Channel, VikesNow. He hosts a podcast with Bryant McKinnie, which airs every Wednesday with Raun Sawh and Sally from Minneapolis. His Viking fandom dates back to 1996. Listed guilty pleasures: Peanut Butter Ice Cream, 'The Sopranos,' and The Doors (the band).