49ers GM Offers Ringing Endorsement for Vikings New Hire
John Lynch
The Minnesota Vikings hired new general manager Kwesi Adofo Mensah on Wednesday, and the transaction is receiving rave reviews – especially from folks who know-know Adofo-Mensah.
The new purple and gold bossman was reared in the San Francisco 49ers tree of leadership – a gang that effectuated two Super Bowl appearances in the last 10 years – and a keynote member of the 49ers is all-in on the Vikings decision.
That's hard-hitting-safety-turned-GM John Lynch. The 49ers general manager worked with Adofo-Mensah for a few seasons in San Francisco, and Lynch was evidently incredibly impressed. Lynch said this about the Vikings hire: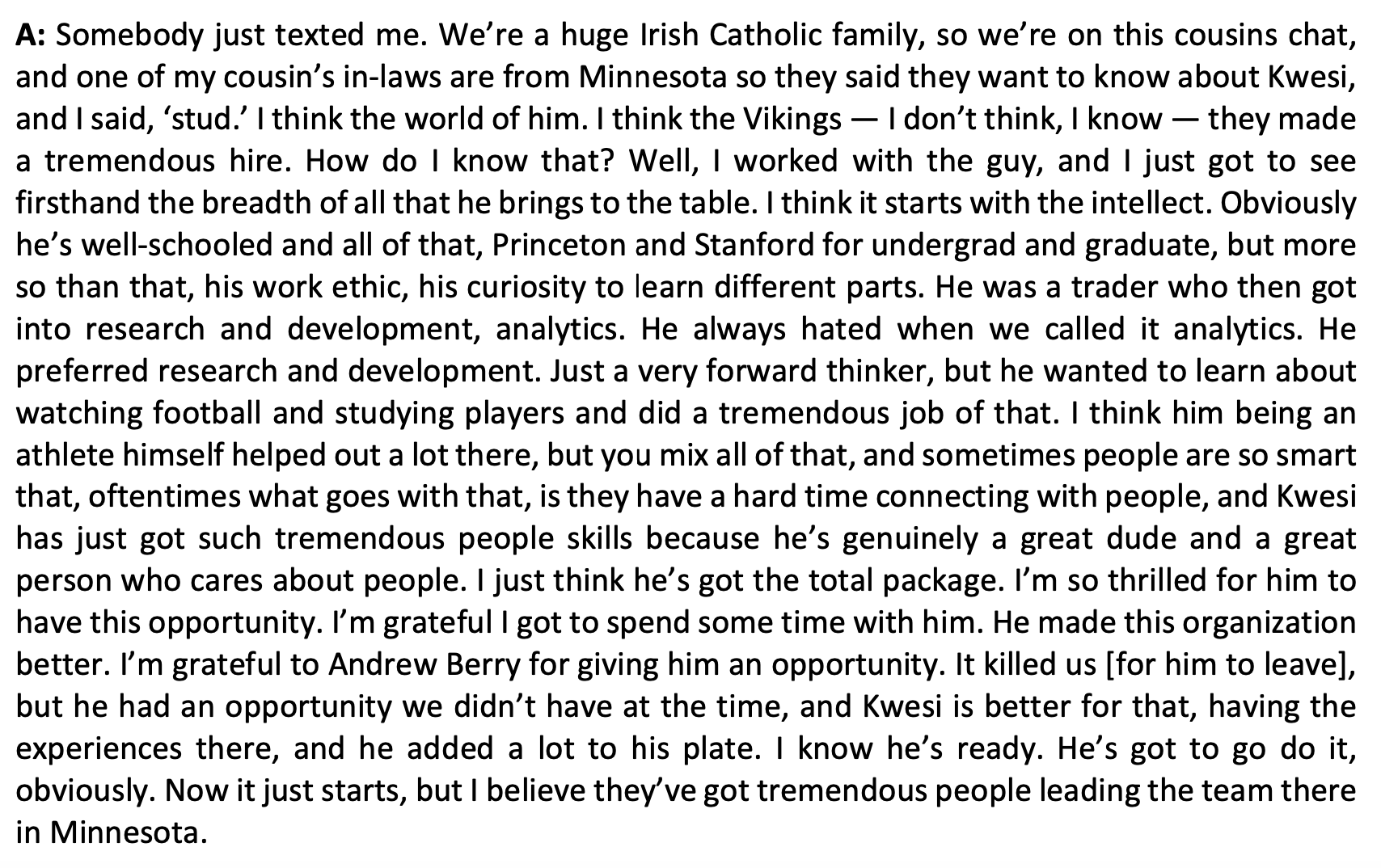 Lynch is respected leaguewide, earning the award for Executive of the Year in 2019 from Pro Football Writers of America. And according to the statement above, Adofo-Mensah wasn't too excited to see the young executive venture to Cleveland.
Adofo-Mensah is a Princeton-educated, guru-type who started his NFL executive career with 49ers in 2013, holding the title of Manager of Football Research and Development. After five seasons in that gig, Adofo-Mensah graduated to Director of Football Research and Development for three years in San Francisco. Most recently, Adofo-Mensah served as Vice President of Football Operations for the Browns.
Now, Adofo-Mensah seizes the big job for the Vikings – a team with the fifth-best winning percentage in the Super Bowl era but no Super Bowl championship to show for it. In fact, of the Top 16 teams per winning percentage since 1966, the Vikings are the only franchise sans a Super Bowl trophy.
And that's what Adofo-Mensah absolutely has to fix.
Talented rosters have followed the 40-year-old Adofo-Mensah with the 49ers and Browns, and conventional logic suggests he had something to do with it. The Browns were the comedy show of the NFL for two decades. But during Adofo-Mensah's tenure, Cleveland built one of the best rosters in football. With John Lynch and Kyle Shanahan in San Francisco, the same reputation exists. In both places, the leadership regimes cultivate sturdy pass-protecting offensive lines – which the Vikings desperately covet.
Minnesota now has youth, diversity, and an embrace of analytics (research and development, as Adofo-Mensah calls it) in its kitchen cupboard. For the most part, those traits did not exist in the front office three weeks ago.
Adofo-Mensah's first task – and it's a mammoth one – is selecting a head coach. According to most theories, the race is down to Raheem Morris (Rams), Kevin O'Connell (Rams), DeMeco Ryans (49ers), and Mike McDaniel (49ers). Although, O'Connell and McDaniel have not been formally interviewed by Minnesota.
Perhaps Adofo-Mensah will poach more of Lynch's guys. If he's as brilliant as Lynch touts, that might be a good idea.
Dustin Baker is a political scientist who graduated from the University of Minnesota in 2007. He hosts a podcast with Bryant McKinnie, which airs every Wednesday with Raun Sawh and Sally from Minneapolis. His Viking fandom dates back to 1996. Listed guilty pleasures: Peanut Butter Ice Cream, 'The Sopranos,' and The Doors (the band).