The Vikings Secondary Helmet Options
Image courtesy of Vikings.com
On Thursday, the NFL approved a second version of teams' helmets for the 2022 season.
Everyone will love this: NFL is implementing a new policy that will allow teams to use two different helmets starting in the 2022 season, per PFT. Throwback helmets are coming back.

— Ari Meirov (@MySportsUpdate) June 24, 2021
For example, the Tennessee Titans can don the Houston Oilers' vintage oil derrick helmets if they choose. Tom Brady and the Tampa Buccaneers can break out the tan swashbuckler guy.
As for the Minnesota Vikings, the news is a bit ho-hum. While the team can tweak a few things like gloss type or facemask color, one of the calling cards of the franchise is the patented white horns on the helmet — that never deviate.
Here's a pictorial history of Vikings helmets.
The skimpy double bar from the 1960s. That won't be back for safety reasons.
Virtually no change hit the 1970s when the Vikings were actually getting to Super Bowls.
The facemask color switched to purple from gray/white in the 1980s as Tommy Kramer commanded the enterprise. Now, the facemasks are black, so this could be a variation change if Vikings ownership is inclined.
The 1990s continued to endorse the glossy finish, and many of you reading this article were introduced to the team during this decade. The facemasks remained purple.
Mewelde Moore (above) sported the 2000s helmets, gloss and all. These uniforms, too, are frequently clamored for by Vikings fan — the white with yellow shoulders stripes.
And then a switch to the matte finish of the helmet of the 2010s — the current version. Peek at Moore versus Adrian Peterson in the photos above to see the difference.
Now — the enhanced safety helmet with black facemask and matte.
Only those obsessed with the team will notice the change of the helmet if the Vikings choose to join in on the 2022 festivities. That's the "price" for remaining consistent helmet-wise of 60 years.
There's goofy stuff though, chiefly derived from artists of photoshoppers.
A lot going on there.
If the Vikings played in the Arena League.
The whiteout effect.
This one, for sale on NFL.com, probably has a reasonable chance to be explored (mainly because it is sold on the league's website).
This one is also for sale on NFL.com.
Here are some of the nostalgic uniforms to pair with the sleek helmets.
If no resolution for a secondary helmet is met, the Vikings can resort to their true throwback helmets.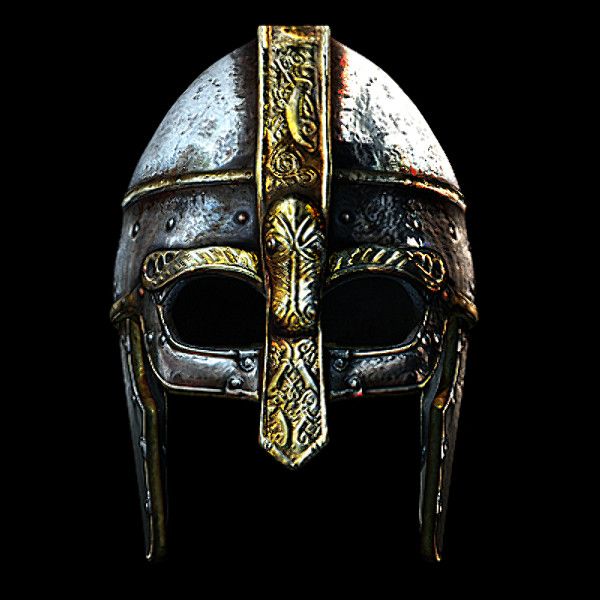 We kid, we kid.
The most realistic avenue, if the Vikings partake, is probably a throwback to the glossy helmet days, with a side dish of the white facemask. Here's Tommy Kramer again sporting the look:
Otherwise, the team would change the helmet somewhat drastically for the first time in history.