I'll ask it again; where's the positivity? We're four weeks from the start of the regular season and just six hours from the Minnesota Vikings' second preseason game; these are exciting times! The last I checked, this is a team without a quarterback controversy (more on that later), a potentially elite defense, and on paper, an improved offensive line.
Really, we're a lucky fanbase. Did you see the Jacksonville Jaguars last night? Talk about depression; and this is coming from someone who wanted the Vikings to draft Blake Bortles.
Despite our fortunate situation, I log onto Vikings Twitter and often leave feeling as the sky is falling. You know what, though? I get it; after last season's nightmare at offensive tackle, any injury up front is sure to trigger a visceral reaction.
We may be accustomed to disappointment, but that doesn't mean we have to expect it.
If you've read any of my work these past few years, you know I'm a generally positive guy. I tend to rationalize on-field outcomes with logic and common sense. My approach to analysis — film work and some football know-how — isn't perfect; I could stand to dive deeper into the world of statistics, metrics, and analytics.
But I'll always do my best to publish informed, and what I hope my readers consider valuable, opinions. With what I'm typing now, I'm sure there will be a little more blowback than say, a post breaking down Dalvin Cook's rookie debut. Over the past few weeks, I've contemplated publishing a few of these "hot takes;" thoughts I've share privately through the VT Slack channels, but not in the open for public scrutiny.
Our back-and-forth conversations led to the continued use of the below gif: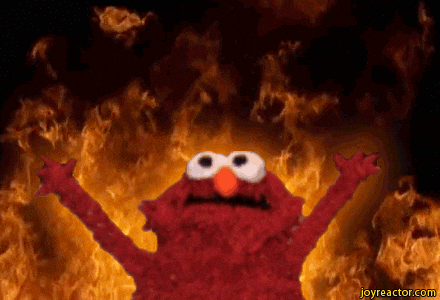 Yes, that's #ElmoFire, the visual manifestation of our many controversial opinions and Vikings thoughts. He's the source of many laughs for the VT team, and today, the inspiration for this new series of posts from yours-truly.
Without further ado, here are a handful of Belisle's burning takes. RIP to my Twitter mentions.
There will be no quarterback competition
I don't need to say it again. Like most fans, I love Teddy Bridgewater. I've got a jersey, a signed rookie card, and his limited edition Bleacher Creature. When he was drafted, I had an unhealthy obsession with Bridgewater and his promising young career; a career potentially ripped away by last preseason's traumatic knee injury.
Let's move past the past, though. Here we are today, and Sam Bradford has quietly become the most polarizing sports figure in Minnesota. You're either in the camp anticipating a breakout season from Bradford, or the group expecting more "throws-short-of-the-sticks" same from Mr. Sleeves. Speaking of which, I'm currently wearing a #TeamSleeves shirt, so you know where I stand.
Anyway, back to this supposed Week 7 quarterback competition. I think it's safe to assume Bridgewater ends up on the regular season PUP list, meaning he'll have to miss the first six games of the year. If, as some expect, Bradford doesn't make the most of an improved line and added weapons, it's feasible Teddy comes off the PUP and has the chance to win back his starting job.
[quote_center]That ain't happening.[/quote_center]
And before I drive any further down this road, let me make something clear: I want Bridgewater to make a full recovery and play in the NFL again. I'm truly not on one side or the other; I'm just looking at this with realistic expectations.
When I take a step and put emotions aside, I see two parties scheming at the negotiating table. There's the Vikings front office, which will face an unspeakably difficult decision: re-sign Sam Bradford via a new contract or franchise tag, or, toll a healthy Bridgewater's contract and sign him to a modest extension in 2018. On the other side is Teddy, who appears closer than ever to a return and surely wants to play in 2017.
It's in the team's best interest to keep Bridgewater on the PUP all season long, as doing so would toll his contract and lessen the financial blow to the salary cap next offseason. For Teddy, a year spent on the sidelines amounts to a massive pay cut and an entire season spent, if healthy enough to play, missing opportunities.
Here's my thought: the Vikings, with the NFL on their side, find a way to keep Bridgewater deactivated all season. This case serves as one example of the tensions between the players' union (the NFLPA) and the league offices, leading to an eventual shutdown of football operations when the current CBA expires.
Bridgewater deserves another shot in the NFL, but I just can't see it with the Vikings. The team took every measure to make this Bradford's team, and my guess is he takes full advantage of Shurmur's elevated status as offensive coordinator while playing in a scheme suited to his strengths.
Even if he is healthy enough to play by, say, Week 9, Teddy's entering a "competition" with a severe handicap, one I wouldn't suspect he'll overcome midway through the year. Bradford, as much as it may pain some to read, appears to be the team's long-term answer at quarterback.
Treadwell and Waynes are good players
Well, they should be, right? I mean, they were first-round draft picks and highly-touted players coming out of college. Most would probably agree they're NFL-caliber contributors, but not at the level of Michael Thomas or Marcus Peters.
I bring those names up for an important reason — the Vikings had the chance to draft both and passed on the opportunity. Today, Peters is one of the league's best young corners and arguably the Kansas City Chiefs' most important defensive player. Michael Thomas is so good he forced Brandin Cooks — a proven talent in his own right — out of New Orleans.
Waynes is just now claiming a starting cornerback spot, three years after entering the league. Treadwell, who caught just one pass his rookie year, is barely scraping by as the team's third wide receiver. On paper, the selections look like "misses," and that's fair, but I refuse to look at the situation through a narrow lens.
Waynes may have stiff hips and lacking ball skills, but he also joined the team at a time when Terence Newman was beating Father Time into oblivion. I'm not in the front office, so I can't begin to know the long-term plan, but Waynes fell into an optimal situation with defensive back guru Mike Zimmer at the helm and a capable starter atop the depth chart.
He's had time to grow into a competent, pro-ready cornerback, and 2017 should cement Waynes' place alongside Xavier Rhodes for good. Treadwell, on the other hand, is still a question mark. He wasn't necessarily the team's first choice at wide receiver in 2016, but he showed enough talent at Ole Miss to earn first-round consideration.
Year 1 was marred by injuries and an arduous attitude adjustment, but all accounts (outside of a hamstring injury) indicate he's taken the next step, physically and mentally. Treadwell also had the misfortune of landing in Winter Park concurrent with Adam Thielen's emergence, making him a more of an afterthought than many considered when the season began. With adjustments up front and a hopeful semblance of a running game, we should see plenty of opportunities for the passing game through play action and three-receiver sets.
Maybe I'm wrong; I'm willing to admit as much. Maybe Waynes and Treadwell drift into irrelevancy this season and do end up as major flops on Rick Spielman's drafting record. That's fair, but that doesn't mean either is or was a "bad" football player. Thomas thrived in the Saints' pass-happy attack, gliding on the turf in New Orleans with Drew Brees at quarterback. I highly doubt he puts up similar numbers in Minnesota's anemic, 2016 offense.
Peters, on the other hand? Yeah, he would've balled in Zimmer's scheme. I won't blindly agree with the staff's decisions, but I will say this — the team drafted these players for a reason, and I can't begin to question the method or rationale of their decisions. Pining for another franchise's players isn't going to get me anywhere closer to a Super Bowl.
Bradford's yards-per-completion is overrated
I'll keep this brief, and I'm happy to discuss further on Twitter, but Bradford's yards-per-completion is an overrated part of the analysis. Throwing short of the sticks is an issue, yes. Bradford's lackluster career averages in this department don't inspire confidence. But I think the number, as it stands for 2016, lacks context.
The Vikings couldn't run the ball last season, shifting the scheme to rely on Bradford's arm. As such, Shurmur's unit finished the year as the eighth-most pass-happy team in the league, asking Bradford to drop back and move the offense 62 percent of the time. That's a fine strategy if you've got the line to protect the quarterback and the time to push the football downfield, but the Vikings certainly did not.
With the adjusted plan in place, Minnesota converted a measly 32 percent of its third-down opportunities last year. Bradford throws a pretty ball, but even his perfect spirals couldn't mask the abomination that was this team's sputtering offense. Some of the blame falls on his shoulders, but I have faith we'll see a turnaround this coming season.
Last week's preseason game wasn't necessarily encouraging, so I understand if you think I'm speaking a different language. Bradford threw seven passes, none of which traveled past the first-down marker. He looked jittery, as if two sacks on eight dropbacks affected his rhythm in the first live action of the year.
But again, where's the context? People complained he didn't "attack" the defense down the field, but we can't know who was open or what the coverage dictated; the broadcast view doesn't reveal such details. Shurmur tailored last week's game plan to Cook, calling plays designed specifically to get the ball in the electric rookie's hands.
In reality, Bradford had few, if any chances to chuck the ball downfield. Let's wait until tonight's game, or even the third preseason matchup, before we write off Bradford's prospects for 2017.
Stats are great, but football is an unpredictable mess
Statistics from websites like PFF and Football Outsiders can help us identify trends and recognize patterns, but this sport is inherently unpredictable. A perfect pass bounces off a receiver's hands and into a linebacker's outstretched arms. A lockdown coverage fails in the face of simple creativity; here's looking at you, 2015 Russell Wilson.
I've been thinking about this a lot:
[quote_center]No stat could've predicted the Vikings starting last season 5-0 after losing Bridgewater and acquiring Bradford two weeks before Week 1.[/quote_center]
I don't know what to expect from these Minnesota Vikings, but I do know whatever happens, it's going to be another emotional, exhausting ride.
---
Part of what makes whole blogging experience fun (at times) is the differing opinions. You may disagree with many of my opinions above, and that's totally okay; they're only my thoughts. If you want to tell me I'm crazy, leave a comment below or hit me up on Twitter at @austincbelisle.